Coloring is Fun: Download Free Coloring Sheets!
A red apple, a blue sky, bright green grass, and the yellow sun…what a fun way to view the world! It's not for nothing that they say colors add meaning and vibrancy to life! In fact if you want to see what life looks like without color,  check out the contrasting images here or just think of the black-white talkies of the early 20th century! (Remember the Charlie Chaplin movies of old from Hollywood, or the famed Mughal-E-Azam from Bollywood? What would happen if they were made in rich technicolor – they were classics of course, but as the saying goes "color is better!", and we bet they'd be much more impactful! In fact, Mughal-E-Azam, which was released in color in 2004, and went on to become a big commercial success, despite facing stiff competition from three other hits of that year.)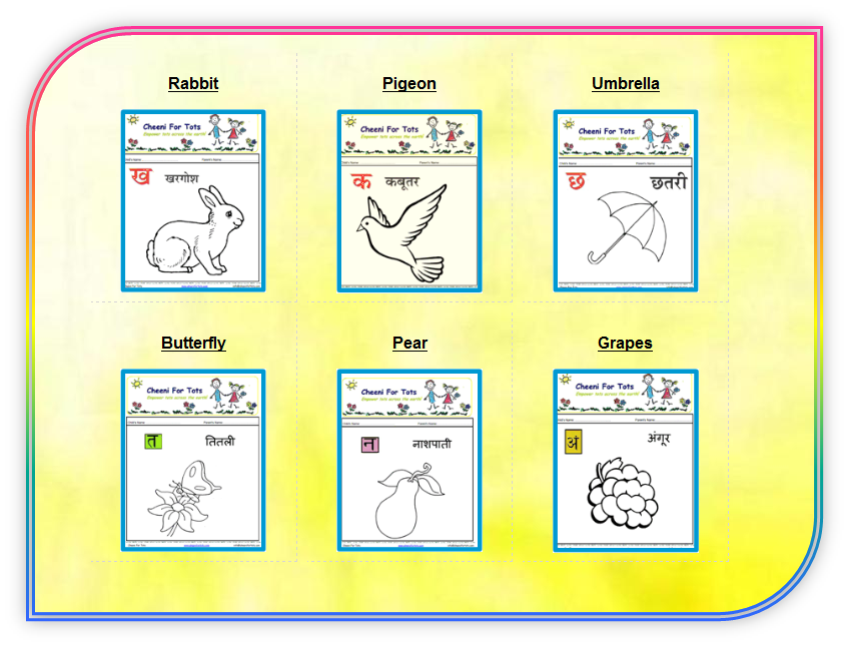 Colors give a child a unique palette with which to paint their view of the world, and we believe in helping them develop that ability, while at the same time, subtly integrating language learning into that process. So, our coloring worksheets are cleverly designed to let the little ones let their imaginations loose when coloring familiar everyday objects, while constantly keeping letters and words associated with those objects before them! So, you and your little one's can enjoy both coloring and learning Hindi — together! Each of our worksheets is designed to let children associate a letter (consonant or vowel) and a word with an object they are coloring.
The objective is to constantly reinforce associations, learning, and, where applicable, elementary reading as well. We encourage you to let your little one's color each worksheet, while saying the letter or the word out loud. This allows you and your angel to effortlessly learn to associate letters, words, and sounds with objects that they color! Before you know it you've got a budding artist and a Hindi Champ rolled into one

!
But seriously, in our experience, we have found this to be a great way to let kids thoroughly enjoy themselves, while letting them imbibe a new language, pretty much as a bonus! It gives them a way to associate Hindi letters/words with familiar objects, while engaged in an activity (coloring) that most kids love.
So, why wait! …Quickly download the free coloring sheets and start having fun right away! Do remember to come back frequently,  as we keep adding new sheets from time to time from here….!
However, you can you can find more Coloring Worksheets with every alphabet, along with a lot of writing worksheets & charts in our  Online Hindi Immersion Programs, such as 13-Min A Day. In the immersion programs, you will get structured step by step Hindi learning process for kids in the forms of alphabets, poems, associations, conversations in the audio, video, and interactive graphic forms. Check out a quick glimpse at the image gallery on the left side of this page under "Hindi Immersion Program Components!" heading.
Trackback from your site.