Guess...Who is the Champ of this Month!

Has Your little angel participated and won fabulous prizes yet?see more...
!!! CFT Events !!!
Sharing a listing of some events where Cheeni For Tots touched the hearts of kids & Parents where they joined each event with a lot of fun and enthusiasm while learning Hindi online and offline. If you were present at the event, and would like me to put your comments here, please send me an email quickly.


Events Listing
---
Unique Online Hindi-English Bilingual Story Time for Kids!
Spring 2012 ::: Yes, you got it right! It is in fact online, and no matter where you are in the world you can join us for the story time as long as you have an internet connection and the time suits you. We invite you to join us for a time of fun & frolic, to enjoy stories, poems and songs in a new language, Hindi (together with English explanations and interactions). This allows kids to soak in the language and learn, without even realizing it! It is open for parents and kids from all the beautiful cultures of the world, and no prior knowledge of the Hindi language is needed. Parents do come prepared with an appetite for enjoyment with your little angels!

Story time will be Tuesdays, 6:30pm PST starting April 3rd, 2012.
To participate, sign-up below, and we will send you the participation details




Back to Top
---
---
News:: CFT Featured in Tri-City Voice (local Newspaper)!!!
Summer 2010 ::: Our story time's "story" has been featured in the Tri-City Voice (the local newspaper) in their June 22nd issue. You can read the article on page 20 of the print version, or click here to read the online version.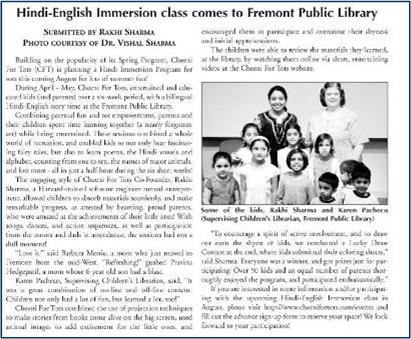 Back to Top
---
Coming Soon:: Join CFT's Online Hindi Immersion Program!
Alphabets, Stories, Poems, Numbers, Basic Conversation, Elementary Grammar, and lots more…
Step By Step Learning Modules through Interactive Board, Audio, Video, Online Sessions, Exercises, Worksheets, Test, Certificate, and much more....
Check out current Registeration information at http://www.cheenifortots.com/ !!!
Back to Top
---
News:: Cheeni For Tots & Kids Had a Lot of Fun at the Fremont Public Library!!!
Spring 2010 ::: Cheeni For Tots presented 6-weeks of bilingual story time at the Alameda County Fremont Library, CA, where kids & parents had a lot of fun by listening to facinating stories, learning Hindi poems, singing the Cheeni For Tots-Hindi vowels song, knowing Hindi consonants, learning the names of animals, numbers and much more in Hindi! Adding to the fun & excitement - Cheeni For Tots conducted a Lucky Draw Contest where kids submitted their artwork with a lot of enthusiasm, and won prizes, just for participating.


"I like to bring my kids to story time because - you make the class very fun and interactive, also very easy to absorb. I bring the kids to the class so they can learn another language"
- Bharti Chandra

"Love it" - Barbara Moni

"Great combination of on-line and off-line content! Children not only had a lot of fun but learnt a lot too!" - Karen Pacheo

Rakhi with Lucky Draw Winners - Kanishak & Manasi!
"We are enjoying the story time"
- Jyothi Suvari

"REFRESHING! to hear Hindi after so many years!"
- Pravina Hegdepatil

"A/V presentation was good to allow kids to relate with the fairy tale". - Vrushali Tambee
Kids, Rakhi & Karen (Supervising Children's Librarian, Fremont Public Library)!
"We loved you, interacting with kids so well"
- Gayatri

"It was really good. She knows marathi, so just worried if she can handle third language. But she did enjoy. This is her first time" - Manik Pant Vaidya

"Poem in Hindi is really good" - Zarsana Valia

Moms, Kids, Rakhi & Karen (Supervising Children's Librarian, Fremont Public Library)!
Back to Top
---
News:: Spring Break Hindi Learning Immersion Week!!!!
Spring-Break 2010 ::: Cheeni For Tots helped kids immerse into Hindi language for a week! CFT's Immersion Program was a lot of fun and learning time for kids here in Fremont! Kids learn't Cheeni For Tots-Swar Geet (Hindi vowels song), reading and writing Hindi vowels and consonants, name of animals in Hindi, Hindi peoms, Hindi stories, Gayatri Mantra, a few sentences of basic Hindi conversation, and some basic points of how they can show respect to books, how they can show respect to elders, and much more...all just an hour a day for 5 days!


Photos & Video Clippings coming soon...
Back to Top
Sign-up & Get More Benefits!