Days of the Week – Bilingual Creative Learning Package –
Do you know how to teach the days of the week in Hindi in less than 5-min to kids in a fun way?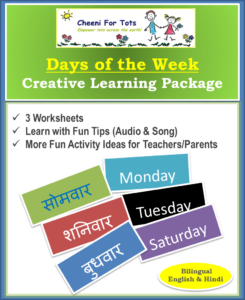 So, have you learned the days of the week by chanting …"Somvaar…Mangalvaar…Bhudhvaar…"! I have…and honestly speaking…I always felt that it was a bit too boring and lengthy.
That's why, when I started teaching "days of the week" in Hindi to my daughter, I came up with something new and interesting. Along with that, I introduced some fun "Days of the Week" games and worksheets to her which made the concept super-easy for her to absorb.
Listen to the Recording –  How to teach "Days of the Week" in Hindi in a fun and easy way!
(Please excuse the light background noise as I've recorded it on my way to a conference, and didn't want to delay recording it for you. Let me know if you'd like to hear a cleaner version. BTW, you can get that (a bilingual version) in the following package too.)
So, what do we have in our Bilingual Creative Learning Package?
The special bilingual (English & Hindi) Creative Learning Package can be used to help kids enjoying learning a language with various activity worksheets, audio, and games ideas.
Enjoy using this package in various ways -
1) Listen to the "Learn with Fun Tips" audio to help kids learn the pronunciation of the days of the week in both English & Hindi …. easily and quickly.
2) Worksheets help kids internalize the concept via the fun and simple ways. Find 3 different worksheets where kids can learn by connecting the dots, cutting & pasting the labels, matching them, and learning how to organize their weekly activities.Give each worksheet on different days to strengthen the concept.
3) Special Parents & Teacher Resource: Get involved and play some fun games with your kids/students. Sharing some fun games ideas with you to help kids enjoy learning the concept.
Trackback from your site.