Empowering, Motivating, and Parenting Quotations!
Sharing some empowering, motivating, and parenting quotations here.
…………………………………………………………………
Do you know that the idea "Language shapes the way we think" considered to be wrong earlier. But Stanford University and at MIT had reopened this question for research. They have collected data around the world from China, Greece, Chile, Indonesia, Russia, and Aboriginal Australia and gathered that people who speak different languages do indeed think differently and that even flukes of grammar can profoundly affect how we see the world.
Lera Boroditsky, who is an assistant professor of psychology, neuroscience, and symbolic systems at Stanford University, has put together an interesting article on the research findings at http://bit.ly/Other-LanguageShapesOurThinking
Enjoy the good read and help your children/students to be a global citizen! Motivate them to learn new languages to broaden their perspective about the world they live in!
…………………………………………………………………
"Happiness is when a daughter braids her Mom's hair to express the love they share" ~ Rakhi Sharma
Parents, I am sure you feel touched when your kids do something special unexpectedly for you, irrespective of its simplicity. One beautiful Sunday morning, my daughter came to me saying "Mamma, I want to give you a surprise." She combed my hair gently and braided them with utmost proficiency with her little fingers. This gesture and her adorable smile touched my heart deeply!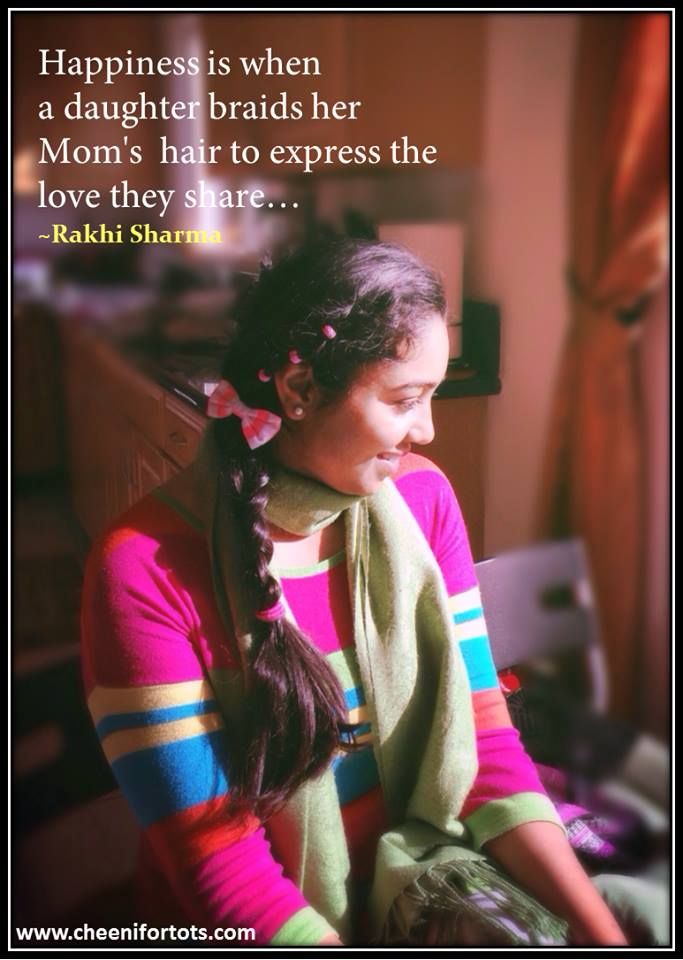 …………………………………………………………………
"No love is greater than mom's love. No care is greater than dad's care."

…………………………………………………………………
This quotation will make you laugh and remind you of those adorable moments when your kiddos have imitated you but in their innocent way! "Children are natural mimics who act like their parents despite every effort to teach them good manners."

…………………………………………………………………
The best gift parents can give to their kids is their precious time. So, Mom & Dads, whenever you can, do these:
1) Listen to your kids with full attention while keeping away all the distractions (hint: your phone)!
2) Talk to them in their language (hint: no lectures pls.)!
3) Be their friends and play with them with their toys)!
You will love them and they will adore you!
Thanks Jesse Jackson for your wonderful quote "Your Children Need Your PRESENCE More Than Your PRESENTS."

…………………………………………………………………
"If a child lives with criticism, he learns to condemn . . .
If a child lives with hostility, he learns to fight . . .
If a child lives with fear, he learns to be apprehensive . . .
If a child lives with pity, he learns to feel sorry for himself . . .
If a child lives with ridicule, he learns to be shy . . .
If a child lives with jealousy, he learns to feel envy . . .
If a child lives with shame, he learns to feel guilty …
BUT
If a child lives with tolerance, he learns to be patient . . .
If a child lives with encouragement, he learns to be confident . . .
If a child lives with praise, he learns to be appreciative . . .
If a child lives with acceptance, he learns to love . .
If children live with approval, they learn to like themselves..
If a child lives with honesty, he learns what truth is . . .
If a child lives with fairness, he learns justice . . .
If children live with recognition, they learn to have a goal.
If children live with sharing, they learn to be generous.
If a child lives with security, he learns to have faith in himself and those about him . . .
If a child lives with friendliness, he learns the world is a nice place in which to live . . ."
― Dorothy Law Nolte, Children Learn What They Live

…………………………………………………………………
Every child has the right to be respected, loved, cared, and valued! No matter how you raise your child, at the end of the day there is only one thing a child needs from his/her parent – Unconditional Love! Happy Parenting Folks!

…………………………………………………………………
Love this cute definition of a Mom! Can you relate
Noun (1) Someone who sees the best in her kids even when they drive her crazy (2) Unconditional love; See Also: Superwoman

…………………………………………………………………
"The most precious jewels you'll have on your neck are the arms of your children! " ~ -UnknownCredits: The Inspiration Network

…………………………………………………………………
"The best thing you can invest in your kids is your TIME."
…………………………………………………………………
"Stop trying to perfect your child, but keep trying to perfect your relationship with him." Dr. Henker

…………………………………………………………………
My daughter reminds me of this fact every now and then, especially during evenings and weekends. She'd say "Come…and spend time with me…" with a smiling face. If I don't come within a specified time that I give, I get to hear a lot of interesting points about why spending time with her is more important than my work or I get small hand written notes as reminders. If nothing works, she would come and sit in my lap and give hugs and kisses. So, unless I am dealing with any strict deadlines, I love to give up. Love being a Mom!
Trackback from your site.