Diwali Fun for Kids! – The Unique Cheeni-for-Tots (and Cards-by-Tots) Way!
Cheeni For Tots and Alameda County Library are bringing this program together for families with kids,  to help them learn more about Diwali along with a kids Talent Show and other hands-on-activities on Saturday, November 17th, from 3-4pm at the Fremont Main Library, CA, USA. Due to overwhelming and exciting response to our Diwali in-person event for kids, we are extending the event to Online as well! Yes, if you can't join us at the Fremont Library in CA, then please do  join us Online from anywhere in US, Canada, UK on on Saturday, November 24th, from 10-11am PST, from your own home.
Click below to RSVP (

required

) & Get Your FREE Pass Now:
SEATS FULL! Registration Closed

– Online Event: 

to attend  Online on Sat, Nov. 24th from 10-11am PST (Pacific Time) !
At Cheeni-for-Tots we are all about strengthening the parent-child bond, developing a love of learning in our kids, and helping them be enlightened, confident citizens of tomorrow. Above all, we are about doing this in a fun, carefree way! In that spirit, let us come together again this year for "Diwali," the "Festival of Lights" – which heralds a new year, new beginnings – and have a fun-filled family celebration at the Fremont Main Library on November 17th from 3-4 pm. As patrons of Cheeni-for-Tots know, our Diwali event last year was "sold out" with over 80 people in attendance, and the kids had a swell time – learning, drawing, singing, and dancing, and showcasing their talents. You can see some of the videos and press coverage here
A Little Bit About Diwali…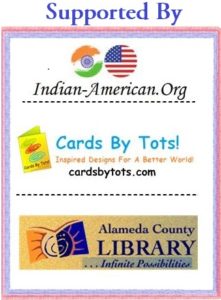 Diwali is one of the most auspicious festivals, representing the triumph of good over evil, light over darkness, and, at a more philosophical level, the illumination of one's inner light. It ushers in hope and good cheer, and blessings of wealth and good luck. And, with celebrations in the White House and Buckingham Palace, and at the famous Trafalgar Square in London, it's gained an international fervor! Today, celebrations occur in the entire Indian sub-continent, and in nations as diverse as the US and Canada, Australia and New Zealand, and the UK and South Africa, not to mention a myriad other countries and regions of the world that have the influence of Indian culture.
Program Activities & Art Contest By "Cards-By-Tots"
We will have a jam-packed program involving a little bit of the history of Diwali, narrated by none other than yours truly! This will be followed by a series of fun activities, including a drawing/coloring session, where kids, with their parents help, can showcase their artistic talents! The Art Contest will be sponsored by none other than Cards-by-Tots – the entrepreneurial venture of the budding "business-woman" in our house, no not me, rather, my 10-year old daughter Urvi! (check out her website at www.cardsbytots.com)
More About the Talent Show…
Of course, we will also have our very special "1-min Opportunity" Talent Show, where we invite kids to share with the audience their talents in singing, dancing, recitation or playing a musical instrument, or any other skill. This is designed to help kids overcome stage fright, become bold, and gain the confidence to present before an audience. Each participant will receive a "Certificate of Participation", but only if you register on time!
RSVP Now & Get Your FREE PASS!
We're expecting a full-house again, so do RSVP by registering for your FREE PASS! (While the event is free, seating is limited, and we'd like to get a head count to arrange for art materials, goodies, certificates, and the like.)   And, don't forget to come decked in full festive attire (there's even a prize for the "Best Decked Parent" and the "Best Decked Child")!  After all what's a Diwali celebration without some glitter and pizzaz!
Click below to RSVP (

required

) & Get Your FREE Pass Now:
SEATS FULL! Registration Closed– Online Event:

 to attend  Online on Sat, Nov. 24th from 10-11am PST (Pacific Time) !
We would like to thank  Alameda County Library, Indian-American.org, and Cards By Tots to support us in coordinating this wonderful "Diwali Fun For Kids" event for parents and kids!
Look forward to seeing you at "Diwali Fun for Kids"!